Concrete Answers Series Hub Site for Architects, Engineers and Developers
Help
for Commercial Projects
National Account Services
We're on call for fast, free, expert support.
We can help solve problems, reduce costs, speed up projects and enhance sustainability.
NRMCA's Concrete Resource Team is available to help solve problems, assist in keeping projects on schedule and deliver innovative solutions. We can assist during project planning or construction and help your organization meet objectives in a timely and cost-effective manner. Upon request, we are also glad to review concrete specifications and provide a range of AIA-approved seminars to your professional staff for CEU credit.
It's a free service...no strings attached.
NRMCA is the national, non-profit trade association for ready mixed concrete producers. The Concrete Resource Team was established in 2003 and is currently serving more than 100 of North America's premier organizations by providing up-to-date construction information to help management make informed decisions. Our mission is to provide long-term service and support, not meet sales quotas.
Discover concrete technology's new solutions for today's important challenges.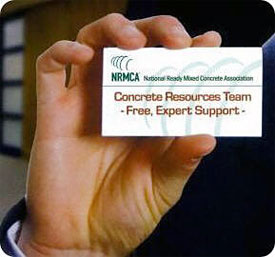 The most frequent request for assistance has been help on developing more sustainable and environmentally sensitive building practices. Pervious concrete pavement has been of particular interest because of the related "green" characteristics and economic advantages. Many accounts have benefited as well from the outstanding environmental attributes of "conventional" concrete applications including strong support for LEED projects. Other frequent areas of interest include self-consolidating and other high-performance concrete solutions as well as insulated concrete forms and tilt-up concrete applications.
Connect to an extensive concrete resource network without cost or obligation.
Concrete Resource Team members have very strong knowledge of concrete with an average of 20 years of construction industry experience. They also have direct access to an extensive network of industry professionals and technical experts that can be tapped when needed.
Help is a phone call away 888-84NRMCA (888-846-7622)
Contact NRMCA and a Concrete Resource Team member in your part of the country will be ready to give you one-on-one support, over the phone or in person. If you have a need right now, we can help you get answers. Plus, we can help with projects under way now or provide a head start on how concrete solutions might play a role in future projects.
You can also directly contact an NRMCA National Resource Director near you:
Jon Hansen, Senior Vice President, Local Paving (BIO)
145 Becky Lynn Blvd., Pleasant Hill, IA 50327
Phone: 515-266-1058 | Email: [email protected]
States covered: IN, IL, MO, IA, MN, ND, SD, NE, KS, UT, NV, CA, AK, HI
Phil Kresge, Senior Director, Local Paving (BIO)

52 North Sycamore Street, Macungie, PA 18062
Phone: 610-966-7220 | Email: [email protected]
States covered: PA, NJ, NYC, DE, MD, VA, WV, OH, KY
Doug O'Neill, Senior Director, Local Paving (BIO)
55 Bright Oaks Drive, Rochester, NY 14624
Phone: 585-436-8310 | Email: [email protected]
States covered: ME, NH, VT, MA, RI, CT, NY, MI, WI, OR, WA
Amanda Hult, Senior Director, Local Paving (BIO)
456 Lorraway Drive, Castle Rock, CO 80108
Phone: 720-648-0323 | Email: [email protected]
States covered: CO, WY, MT, ID
Learn about the newest concrete solutions for sustainability.
We're your connection to pervious concrete and other "green" concrete solutions.
Concrete's environmentally-friendly features make it the building material of choice for sustainability.... meeting present needs without compromising the ability of future generations to meet their own needs. The Concrete Resource Team can connect you to the information you need to meet ever-increasing demands for sustainable development.
Pervious Concrete: When it rains, it drains.
Pervious concrete pavement has a 15-25% void structure, allowing 3-8 gallons of water per minute to pass through each square foot. When it rains, pervious drains, putting water back in the ground where it belongs. The Concrete Resource Team can bring you up to speed on this critical application.
Concrete is LEED®—Friendly and more.
Concrete offers opportunities for owners, architects, engineers, and contractors to maximize credits offered by the United States Green Building Council's (USGBC) Leadership in Energy and Environmental Design (LEED®) New Construction standard. LEED is the set of green building specifications being adopted by a significant and growing number of municipal governments and large developers. The Concrete Resource Team can put you in the LEED on this important sustainability issue.
Concrete offers other environmentally friendly features, including a lighter color which reduces heat-island effects, its application in green-rooftops, recycling benefits and more. The Concrete Resource Team can arm you with the information you need to make sustainable choices.